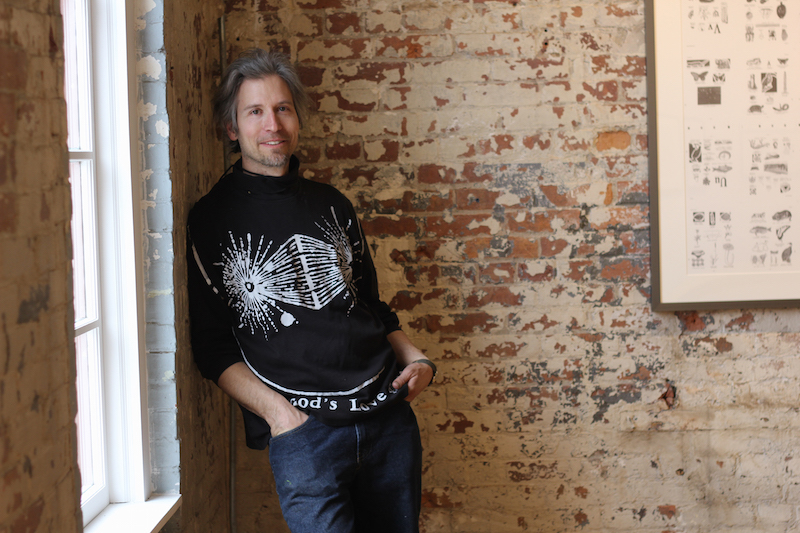 John M. Carrera is a printer, bookbinder, and artist who has taught and lectured extensively. Carrera's work has been featured in shows at Yale University, Artspace New Haven, Salem State College, Oberlin College library, as well as venues in Italy and Finland. Carrera's artwork has also been included in traveling exhibitions through the American Print Alliance and the Smithsonian Institution Libraries and is included in many prominent public and private collections.
He has studied at Oberlin College, the University of Wisconsin, and the North Bennet Street School. He has developed and taught courses to adults and teens, including letterpress printing, wood engraving, non-adhesive bookbinding, book arts, and book structure. Carrera is the founder and proprietor of Quercus Press letterpress and bindery.
He is a member of the Letterpress Guild of New England, the Wood Engravers' Network, the Guild of Bookworkers, and the Society of Printers and has spoken widely about the work with Webster's as well as his other artwork. He lives in Frederick, Maryland.
Carrera occasionally takes on new commission work and is available for speaking and teaching engagements.
Quercus Press
The mission of Quercus Press is to create lasting images in artists books and printed matter. To facilitate an intimate, sometimes syncopated appreciation of our rich, changing world of beauty. To share the experience of making and printing with students and the public.
The name Quercus Press sprung from my love of botany and trees. Quercus, Latin for Oak, not only has the connotation of something long-lasting and majestic, but the QU is often a graceful ligature in older typefaces.
The first publication by Quercus Press, Acquainted With the Night, was produced in Madison, WI in 1993.
In 1996 Quercus Press moved into its first real "home." The first two editions, though products of Quercus Press, were editioned using other presses: first Silver Buckle, then Dorothea Black's Vandercook 4 at Scrabbletown Press. Upon installation of the 1938 model 8 Linotype and the small job-shop of Henry Doucette of Waltham which included numerous cases of type, a 12X15 Chandler and Price and a Guillotine.
For almost 15 years Quercus Press was an active part of the Artist's Community in Waltham, MA known as the Waltham Mills Artist's Association. In 2011, Quercus Press relocated to rural Maryland.
Other Projects
I occasionally take on small printing projects if you have a clear focus of what you want and have the means to pay for highly specialized work.
I enjoy doing one or two wedding invitations a year. Generally, 150 hand printed invitations with envelopes and return cards will begin at $800, with special design work and engraving adding to the price.