Johnny Carrera has been working with the images from the original 19th Century editions of Webster's Dictionary since 1996. To create the artworks in this series, Carrera organized, cataloged, restored, reprinted, ruminated over, recreated, recontextualized his favorites from more than 12,000 original engravings created by Merriam Webster, most from the 19th and early 20th Century. As a group, the images from Webster's as seen by Carrera are a window into American knowledge during that period and a rich, resonant resource for tomorrow.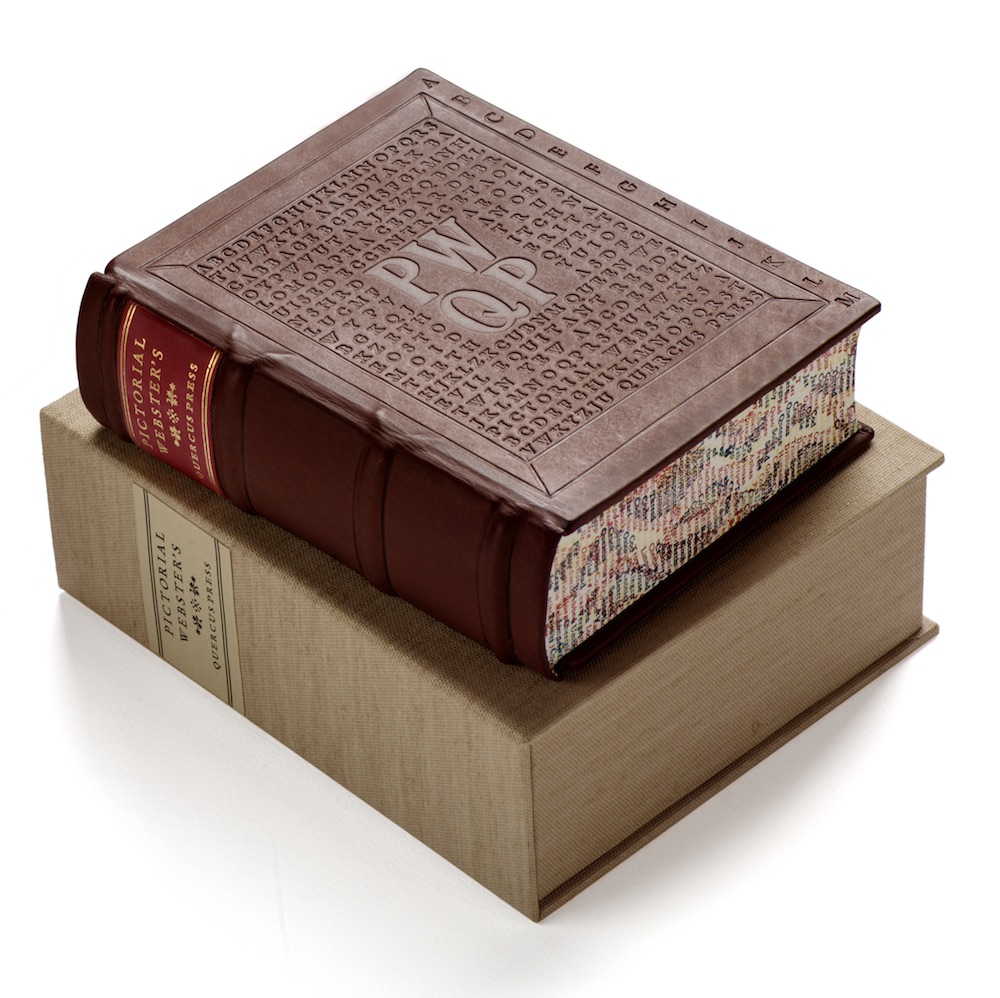 The culmination of this 13-year project was The Pictorial Webster's: A Visual Dictionary of Curiosities, published first by Carrera's Quercus Press and in 2009, in an accessible hardcover edition by Chronicle Books. The 400 page book contains more than 3,000 illustrations from the series, including engravings dating back to 1859. While the images include the exotic, the mundane, the obsolete, and the iconic, they also tell the story of what matters by showing what gets organized and shared. Carrera has exercised considerable skill to allow the fullest, most open interpretation of the collection, creating an elaborate notation system to identify each image — and he's added his own subjects where he felt it necessary.
While Webster's is a list of meanings, the Pictorial Webster's is much more. Carrera says, "Each reader will arrive at his or her own interpretation of the …. engraved images arranged with an artistic eye and loose adherence to alphabetical order. The reader will be free to appreciate each image or page on its own, or to string them together to make a visual stream of consciousness story full of new ideas sparked by forced associations."
Provocative, informational essays before and after the visual "meat" of the book share more about the history of the images and about Carrera's process.
Other items in the Chronicle series are the Pictorial Webster's Pocket Dictionary (a smaller hardcover collection of images), a very cool set of rubber stamps, a set of A to Z Wall Cards, and a journal for artists and writers. For the collector, several different deluxe, hand-bound editions of the Pictorial Webster's are also available in very limited quantities. Please inquire for details.
From time to time, Johnny makes limited edition t-shirts and other items, available. Another project is the Dueling Dictionary, a unique, inexpensive artists' book showcasing a small selection of Webster's images with competing words and connections on each spread.
In 2013, Carrera's work with the Webster's engravings was featured in Life's Work: Tom Phillips and Johnny Carrera, a major exhibition at MASS MoCA (open till January 2014). Adapting minuscule book illustrations to a large scale museum installation was performed with Carrera's typical enthusiasm and grandeur: The original and adapted engravings and other images created by Carrera were printed large scale onto 17 x 12 foot sails.
The MASS MoCA show also includes a one-of-a-kind version of the Dueling Dictionary, printed on large sheets of wood and "bound" to a dedicated table, as well as vivid color screen prints juxtaposing images from the compendium. Silkscreen prints from this group, produced in very small editions, are available.